Here are some success stories from parents and teachers who have been using the skills of Conscious Discipline®. If you have success stories you would like to share, please e-mail Ginny at ginnyluther@gmail.com.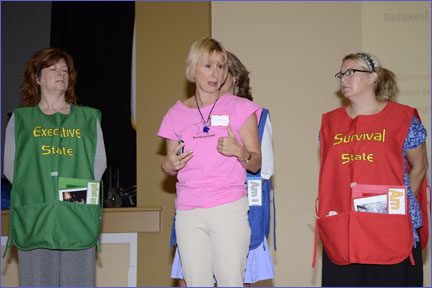 Dawn's Story
I have over the years, even before I decided to send Adriana to St. Mark's, taken several classes in these empowering strategies that can transform the normal conflicts we as parents find ourselves in and actually in our everyday relationships.

I cannot say enough great things about these tools and strategies that I first read about in Dr. Becky Baily's books and then getting to learn them first hand in person from Ginny Luther made all the difference. Ginny is very passionate about Conscious Discipline and these Brainsmart strategies. She will keep you entertained and waiting to hear the next thing.

I love that it is all based on the science of the brain and utilizes simple strategies to empower our kids. I also first hand was able to see when I audited the kindergarten class last year, 2 little boys utilizing the techniques for bullying and hurt feelings. I had tears in my eyes to witness the teacher facilitate the process as the boys worked through the conflict. Knowing that one day these boys on their own would be using these skills instead of anger or in a negative manner was what touched my heart. Let me clarify — I am a mush if you don't know me and often find myself teary eyed over simple sweet things.

Anyway, I just wanted to express my excitement that we at St. Mark's use this program in the school and it really has been transformational for Tom and I in raising our daughter.

I know we all have busy lives and adding another thing may not sound smart, but I promise you that this is so worth it.

From the Mother of a Three-Year-Old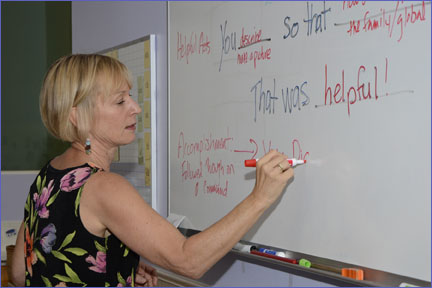 In the last 5 weeks of attending your class, I have learned so much about myself and my family. I was so moved at the last class and I was trying not to totally break down and cry. I was sad that the class was ending, but completely overwhelmed with the feeling of HOPE!! My son sounds a lot like how Bart was as a child and as you were reading the letter, I thought there is hope for my child. He can and will be successful in life. I went home and cried as I was telling my husband about everything that finally made sense and how moved I was that night. I still cannot believe how much I learned about myself. It is helping me with my own personal struggles, and thanks to your inspiration, kindness, and knowledge, I feel powerful, and I haven't felt that way in a long time. I was 24 when I had my son and I was still trying to figure out who I was at the same time. I was suffering from postpartum depression. Everyday is a challenge, but you have challenged me to dig deep and be powerful and overcome all the things I never thought I would be able to. I can't thank you enough for all you have done. I really hope there is still more to come. I have my husband on board listening to all the CDs and for the first time since we became parents I think we are on the same page. Just the little that we have changed in the way we parent we have seen a transformation in our son that has been unbelievable. Even my daughter (2) says, "Take a deep breath and relax," when things start to get overwhelming for all of us. Once again.
THANK YOU!!!
You are an angel!!
Mom of a three-year-old
Joe's Story - from a father of a 13-year-old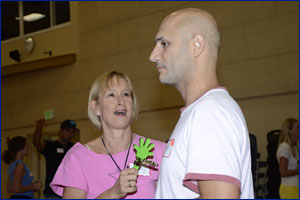 Hey Ginny,
I did it!! My thirteen-year-old called up. Mom, this mom, that UGH! You sound yeah. It seems like yeah It's no fair! It sounds like yeah. It seems like yeah. What could you do to make it better? I don't know… How about a time machine? Huh? So I explained it. In less than 3 minutes!!!!!!! It was all done and over and she felt like she had power!! Whew! Thank you, Thank you! Oh and I thank myself for going to class and putting it to work : )
Joe
Ann Ferola's Story
My four-and-a-half year old son, Nicholas, had been attending preschool half-days, until one day he decided he would like to go full days. We discussed it with his teacher, who agreed that he was ready.

The first week went well, with Nicholas being very excited about staying at school all day. On Monday of the second week, Nicholas became upset when he saw me packing his lunch and told me that he wanted to be half-day once again. My initial "permissive parent" thought was to give in, but then I realized that he was just feeling anxiety after being home all weekend. When I reminded him that he had chosen to be a full -day student, he became extremely upset, crying and entering "pre-tantrum" mode.

In the past, I would have probably given in and let him be half day, or maybe taken a "Too bad — that's the way it is" attitude and put him in the car crying.

Instead, I shifted into an empathetic frame of mind. I calmly sat down on the floor and said, "You seem really upset. You would like to be half-day today, wouldn't you?" Nicholas climbed into my lap, still crying, and nodded his head. I continued, "It's hard to go to school for the whole day. What can I do to make it easier for you?" I was amazed when the tears instantly stopped and my four-year old son turned to me and said simply, "Come have lunch with me."

As proud of him as I was, I was still a bit skeptical, thinking he would want to leave with me after eating. I explained, "I would be willing to have lunch with you today, but when lunch is over, I will leave. You will need to stay at school to finish the day. I will come back for you when school is over." "I know," he said. Then he happily took his lunch off the counter, went out the door and got into the car.

I took the opportunity to encourage him on the way to school. "Nicholas," I said, "You did a very grown-up thing today." He looked a bit puzzled. "You had a problem," I continued, "and you came up with a solution all by yourself. You fixed your own problem!" In the rear-view mirror, I could see him beaming, obviously pleased with himself.

When I arrived for lunch, his teachers informed me that he had been talking all morning about our "date." We had a lovely meal, although it was cut short by Nicholas leaving our table to play with his friends. I was not offended in the least.
Ann Ferola, Jupiter FL.
Celeste Li's Story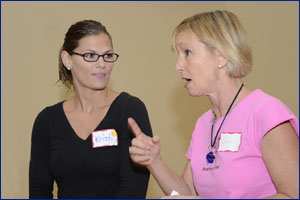 Alec and Jenna are really doing great. They find it very amusing that John and I are going to school to learn how to be better parents.

Success stories! I told you this one last time, but now I'm putting it in writing: Alec (6 ½) told John a few weeks ago that it was "good having Mom around, because she's good at solving problems, and if Jenna and I have a conflict, she helps us solve it without fighting."

The other day when I was at work, Jenna (5) was upset and crying. The unhelpful sitter told her she was a baby. Jenna told the sitter, "I don't like when you call me names. If you can't help me when I'm crying, it would be better if you sent me to my room."

And here's the best one: Alec was throwing around a pool toy. Jenna intercepted it. Alec tried to wrestle it from her, but she held her ground. Alec started whining, and Jenna said, "I see you really want this toy." Immediately Alec stopped whining and stared, mouth agape. Jenna continued, "The problem is, I have it now. If you want it, you can ask me in a respectful voice." Alec asked in a respectful voice, and she gave it to him.
Celeste Li, Jupiter FL.
June Justi's Story — My journey Through Conscious Discipline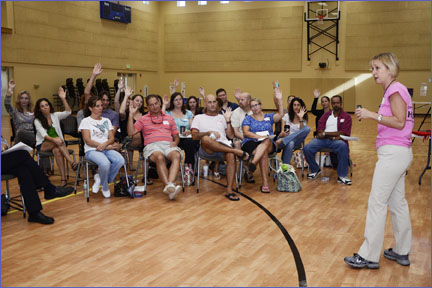 I am the mother of a 27-year-old and a 5-year-old daughter. When I raised my oldest daughter, Heather, I was very young and knew no better than my "Mother's" way. I was very lucky and raised a willing, smart, "easy" child who got a full scholarship for college and graduated with honors.

Then came my 5-year-old, Shauna, 22 years later. I had changed, and doing things my "Mother's" way was no longer working for me. I was challenged daily until a friend told me about a class that had changed her life. I had to find out for myself so I took my first Conscious Discipline class and met a woman who did change my life forever. Her name is Ginny Luther and she teaches from her heart and soul. I am so amazed at how much sense everything makes and find myself taking class after class trying to make Conscious Discipline as automatic for myself as it is for my life long friend, Ginny Luther.

It is my journey, and one that I am passionate to share with anyone who is open minded enough to try it. It only took one class to hook me 4 years ago. I challenge anyone willing to give it a try. It just makes sense.
June Justi, Palm City FL
Michael's Story - I recently received this letter with Michael's permission and was so touched by it that I felt compelled to share it.
— Ginny

Michael's wife died recently in a tragic accident leaving him and his two daughters who currently attend Bessey Creek Elementary School. For those of you who don't know, Bessey Creek has been implementing Conscious Discipline with my support for the last few years. The names of teachers have been altered to protect their privacy rights.

From Michael
I am compelled to write you with my gratitude and thanks for the work that your school has committed to and the support that you have shown. In this time of my losing my wife, and my children's mother... we are all trying to make sense of aspects of the accident. Sadly, I often can only console the girls with the truth and reality. It hurts and creates a loneliness that I wish on no one. Though the Lord has been gracious and has shown throughout the process...one area I would like to pass on to you...and please pass it on to Ms. D and Mr. T. Only a week now from the accident I felt the importance of getting the girls back into a semblance of the schedule that we enjoyed prior to their mother's passing. We talked about when we might be ready to go back to school, and as you can imagine the girls had good excuses to put it off and delay. During the day after the Celebration of Lisa's life, I let Madeline know that the next day (Friday) she would need to be prepared for school. I confess that I did promise to meet her for lunch with Burger King for her efforts. As we were driving to school, I was talking to her and reminded her of Mrs. B. and that she was in our church family and always had an open door, and that her kindergarten teacher was so looking forward to her return...that the children were anxious to see her and comfort her. My concern obviously was that she would be overcome with a wave of grief as we all seem to be weathering these days. She reminded me, to alleviate my concerns, that she had a "safe place" in her classroom. I asked her about it... thinking that it was more of a "time-out" space. She explained that it was a place that she could go at anytime to settle her emotions and that in the 'safe place' there were exercises that she had learned to get her emotions, be it anger, sadness, or as we say 'sassiness,' under control. Obviously I was floored... and very grateful to know that she saw a place at the school as a haven for the mess that she is having to weather at the age of seven. I have, to this point, considered the safe place in her classrooms as a bit hokey. But, I saw in her eyes that she knew she could get through the day at school knowing that she had a refuge at school. I encouraged her to stay at school while at lunch and was rewarded by her comments later last night that she was really glad that she stayed all day that she enjoyed the day… something that we all need so desperately these days. Thank you for creating that zone that has and will provide her with the comfort she will need to process the passing of her mother while she gets back on track. I sure wish our work places had safe zones. Thank you.
Michael
Jenn's Story
I have to share with you that in the beginning of the year one of our students moved after the first couple of weeks of school. The children decided they wanted to keep him in the heart and wish him well each day. Well, it had been months and he moved back and wouldn't you know his picture was still in the heart. It was then that I realized the importance of school family. The connection I felt during Conscious Discipline I institute among that school family, I felt was created in our school family and it was awesome!
Jenn Shea, Kindergarten Teacher